This is a kid favorite in our house. Probably because it doesn't have any vegetables mixed in. 😉
Recipe



1 lb of chicken I use chicken thighs most of the time
1 cups of tamari, this also depends on how large your cooking pan is, you want it to be enough to cover the bottom of the dish and cover at least 1/3 of the chicken
2 tablespoons of sugar,  1.5 tablespoons of honey, or agave nectar
1 teaspoon pepper
2 teaspoon chopped garlic
dash of apple cider, probably 1-2 tablespoons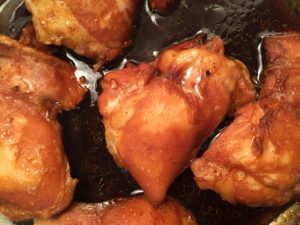 Cooking
Combine everything but the chicken in the baking pan. I use the standard 9 x 12, but you can use whatever size will fit your chicken. Mix until the sugar dissolves.
Place the chicken in the sauce. I usually put it in with the smooth side down. Preheat the over, while the chicken in marinading. I usually marinade for 10-15 minutes. Flip the chicken over when the oven is ready and put it in for 30 minutes at 350F. After 30 minutes flip it again. Bake another 15-30 minutes. It depends on how thick your chicken is. I usually aim for a total of 50 mins to an hour. Flipping the chicken is what gives it the more crisp outer layer that makes it more like teriyaki. Also, make sure it is fully defrosted chicken if it was frozen. It needs to be defrosted all the way so it can cook all they way through evenly, but also because it tends to make the sauce watery. If you want to go for extra points and make a teriyaki sauce on the side for dipping you can follow additional thicker sauce making instructions below.
1/2 cup of tamari
1 tablespoons of sugar,  1 tablespoons of honey, or agave nectar
1/2 teaspoon pepper
1 teaspoon chopped garlic
and Sriracha or chili flakes if you like it hot.
Whisk the ingredients together in a small sauce pan and warm them. Slowly add cornstarch to the mixture stirring until is completely absorbed. It will thicken as you do this. When it is to the thickness you like remove it from the heat and serve.
I serve it with white steamed rice and tamari as well as stir fried or steamed veggies. This way the veggies are in a separate pan and the kid that only wants the chicken and rice can have that and the husband who loves the spicy rooster sauce.  Add the extra teriyaki sauce on the side for dipping and you have yet another way to encourage your toddler to eat. Dunking as my child calls it, used to be a favorite thing around two years old.
This photo is obviously my plate note the veggies and lack of spicy sauce.
Hope you enjoy this! Let me know how you make it your own!
P.S. The sauce with the chicken can also be a freezer entree. It is part of the Six Dinners in 1.5 Hours Plan. See how to prep everything at once in that post.