#1. Favorite Gluten Free Vegan Treat: Justin's Chocolate Hazelnut Butter Blend
I was so sad when I realized that Nutella was making me feel sick. Then I realized, it has milk in it. Well this is just like Nutella, but without the dairy and potential gluten! It is fantastic on toast and well, pretty much anything! It is only $3.99 at Target so pretty good deal for something so ridiculously tasty!
#2. Favorite Gluten Free Recipe from Another Blog: Carrot Cake with Cream Cheese Frosting from the Pretty Bee
I love and greatly miss carrot cake. I even like it without the frosting. This looks so good! I can't wait to try it. And maybe it will convince my kid to eat carrots some more.
#3. Funniest Thing This Week: Gluten Free Office Meme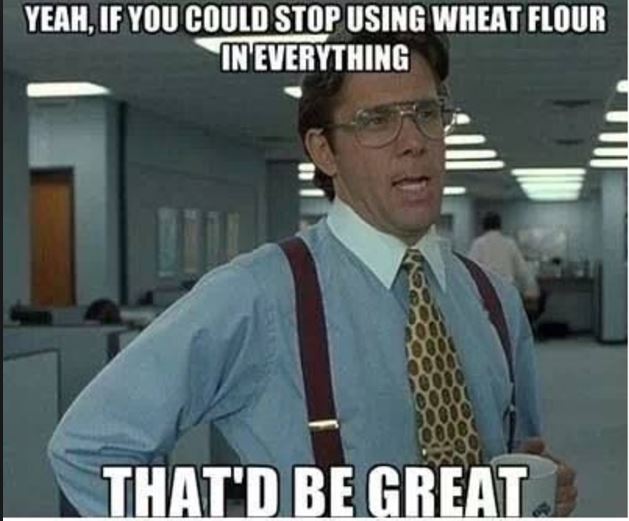 It really would be great! Especially in things that no one would ever guess it was in. Like spices, and salt, and medications.
#4. Favorite Product: Kettle Potato Chips
I am a total chip fiend. It is something about the crunch and the salt! For me Kettle brand potato chips have the perfect balance. I try not to buy them too often because we'll just eat them and then feel guilty and greasy. Chocolate and potato chips are my kryptonite. If it is in the house, I will eat it. I personally love the original plain flavor the best!
#5. Favorite Thing This Week: Yoga with Adriene
I watch this video when I feel a little foggy and I have a lot of work to do. It really does help me focus. For under 10 minutes it really hits all those tight spots. I highly recommend it if you are looking for a quick pick me up. It is easy too so you don't have to worry about injuring yourself, no headstands of splits or crazy holding a pose for five minutes.
It really is amazing what less than 10 minutes of yoga can do! At the end of the video she says "Notice how you feel" and I am constantly amazed that every time I feel amazing.