Easy Weekday Stir Fry Dinner Recipe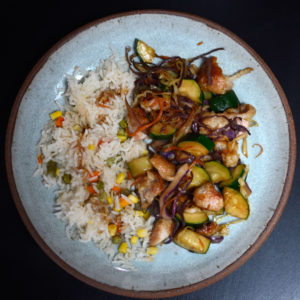 This is one of my easy go to dinner recipes. My kid loves it and so does my husand. You would never be able to tell if it was gluten free or not. Since most stir fry is dairy free you don't have to worry about that and it doesn't even need eggs.
The flour sticks to the chicken easily and since you fry it right away in the wok it becomes little bits of lightly fried chicken. I use a non-stick wok. If you use a regular wok just be sure to use a bit more oil so the chicken doesn't stick.
Breaded Chicken Veggie Stir Fry Gluten Free Dairy Free and Egg Free
Ingredients
1 lb of chicken thighs (or breast if you prefer)
1 cup of all purpose gluten free flour. I usually use rice flour by Bob Mills, but I recently used Namasate cup for cup flour and it worked equally well
1 clove of garlic chopped
2 zucchinis
2 cups of chopped veggies, I used purple cabbage and shredded carrots. These cook very quickly.
1/4 cup of tamari or gluten free soy sauce
1 tablespoon of sugar
Salt and pepper to taste
optional: 1 tsp chopped ginger and 1 tsp chili sauce
4 tablespoons of cooking oil (I use avocado oil)
Instructions
Heat your wok to frying temp and add oil (I prefer avocado oil these days since they say it is better for frying at high temperatures)
Cut your chicken into small bite sized chunks.
Put your flour in a bowl and add salt and pepper to taste (I put 1 tsp of pepper 1.5 tsp of salt.)
Lightly toss your chicken in the flour to cover it.
When the oil is hot drop you chicken in and let it sit until it cooks about half way though and then flip it over. You want to let it cook a bit otherwise when you go to flip it the flour will stick to the pan.
Cook the chicken until it is golden brown and the juices run clear.
Remove the chicken and put on a plate with a paper towel.
Add a little more oil to the wok and cook the garlic and zucchini until brown. Then add the cabbage and carrots. Cook until soft, but not completely limp.
Add the soy sauce/tamari and sugar.
Add the chicken back in. Stir fry for a minute more to coat the chicken with the sauce.
Serve over rice immediately.
I made white rice with frozen peas, carrots, and corn to try to work a little more vegetables into our lives.
https://www.withextralove.com/2017/06/21/breaded-chicken-veggie-stir-fry-gluten-free-dairy-free-and-egg-free/
Please credit recipe to correct source.
This chicken stir fry is quick and easy and no one will know it is gluten free. It is great spiced up with a little chili sauce and/or rooster sauce. You can always top it with both after the fact if you have kids. That way the kids can have what they want and you can still get your spicy.
My husband covered it in rooster sauce. I had mine as is. My kid picked through it and ate all the chicken and rice and left the vegetables on the plate, but it didn't take me anymore time to make something that she ate at least most of. So for most days,  I will call it a win! Only had to cook once so less dirty dishes and everyone liked it with minimal changes.
Hope you and your family enjoy this. I make this a lot and just change up the veggies. I can occasionally even convince my kid to eat some rainbow carrots out of it. The purple cabbage this round did not manage to convince my four year old to eat it.
Let me know in the comments what kinds of modifications you made that made it even better!